The Importance of a BEEC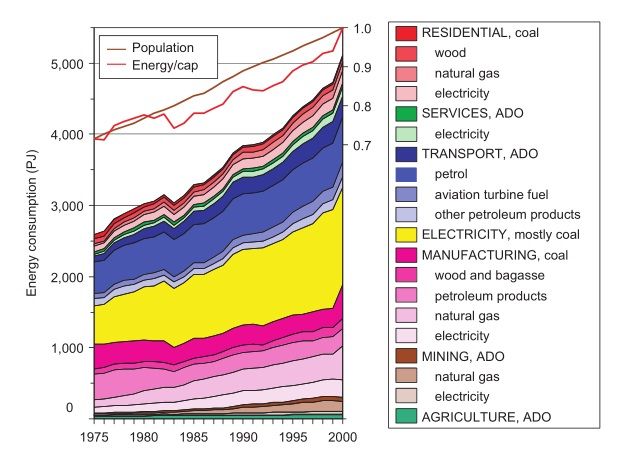 Australia's Energy Time Bomb
As you can see from the image above, the figures of energy consumption, released in 2006, shows that Australia's energy use sky-rocketed between 1975 and 2000 largely due to increased use of electricity from coal-fired plants. The massive increase in has largely been put down to Australia's move from rural to urban living over the last forty years. Today, Australians are amongst the largest per-capita consumers of natural resources, getting through some 70 tonnes on average per person every year while the EU and USA are seeing a general downward trend.
At and individual level, there is much that we can do by reducing our thermostats in the winter, our air conditioning in summer and switching off all unnecessary electrical items throughout the year. This is all well and good for individuals but there is much that businesses can do to reduce their consumption too. There is a way that we can measure the energy efficiency of Australia's office buildings and it is called "BEEC"
What Is BEEC? Do I Need One?
Quite simply, a Buildings Energy Efficiency Certificate is a method to determine the energy efficiency rating of commercial buildings such as office blocks. It is a legal requirement for any building of 2000sqm or greater that is being sold or leased – though anything under this floor space is voluntary, there are definite benefits for smaller buildings to participate in the programme. BEEC is an overall package that contains:
A NABERS (National Australian Built Environment Rating System) rating of one to six stars
A CBD (Commercial Building Disclosure) lighting assessment. This measures the efficiency of the lighting system
General information on energy efficiency issues affecting businesses
As it is a legal requirement, a BEEC must be provided on request to any prospective buyer or tenant that requests one. The NABERS information must be stated clearly in any promotional literature that advertises the property for sale or lease, and the building must be listed on the Building Energy Efficiency Register (which is accessible to the public).
Though it is not a legal requirement, the owners of the building may advertise their BEEC information and NABERS rating around the property in order to enhance its image as a property. Each BEEC is valid for up to twelve months – the expiry date of the current rating is stated clearly in the documentation. You do not, however, need to keep your BEEC current unless the property is up for sale or lease. However, it may be wise in some cases and for a variety of reasons to keep the details up to date.
Ausnviro and BEEC
Ausnviro specialise in BEEC assessment and with our main business focus and experience on office blocks, we can guarantee you a quick and efficient service with a thorough examination of your premises: Ausnviro aims to turn a BEEC assessment around in 5-10 days. We know how urgently some of our clients need the assessment carried out in order to get relevant marketing material out and vacant properties listed for sale or rent as soon as possible.
Some clients might be concerned about disruption to their daily work, especially if a business premises is presently occupied. Ausnviro's on-site assessment can be performed in a single day with minimal disruption to your staff. We will also submit all of the final assessments to the relevant authorities so once you have requested the BEEC assessment, just leave it to us.