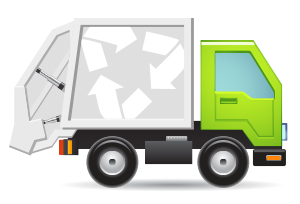 The aim of NABERS Waste is to provide existing office building owners, managers and occupants throughout Australia with a reliable and easy-to-use benchmark, which tracks the impact of a building and its occupants waste management practices on the environment.
The rating addresses the following aspects of waste management:
Total waste generated (garbage, recycling, and re-use waste streams)
Recycling rate (amount of appropriate waste diverted from landfill disposal).
NABERS Waste awards star ratings based on the building's impact on the amount and treatment of waste and how that performance impacts the external environment, with a higher number of stars for better performance. The rating is provided in order to be able to compare buildings in as fair a manner as possible.
The number of stars is determined by the normalised mass of total waste generated, and/or the recycling rate depending on the type of rating conducted, and normalised for the number of occupants in their context of total waste generated (grams per person per day).
Ausnviro has carried out Certified NABERS Waste Ratings for key buildings in Australia. We service all states and territories.
Below are some photos of a NABERS Waste Rating Ausnviro delivered for a large commercial tower in Melbourne:
Enquire now
Call 1300 622 377 now for an obligation-free discussion or enter your details in the form below
An Ausnviro consultant will contact you within the next 2 hours, to answer your questions and discuss your situation.