Sustainable Apartments and NABERS
By Alex Hardingham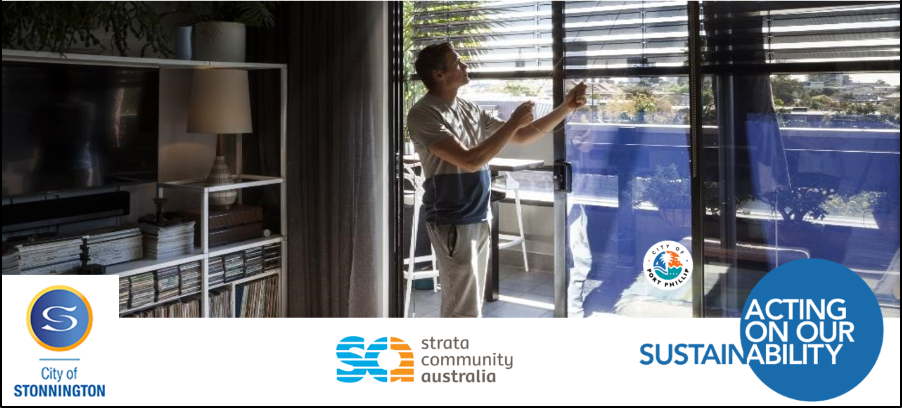 Ausnviro present at the Sustainability Session for City of Port Phillip and City of Stonnington on the new NABERS for Apartments tool
It was a great pleasure to speak on behalf of Ausnviro last week at the Sustainability Session "Apartments: Building a Business Case for Sustainable Changes" organised by City of Port Phillip, City of Stonnington and Strata Community Association.
I was very interested to hear the other speakers share their experiences driving sustainable changes in the high-density residential sector, with Julie Mclean from Ace Body Corporate Consulting, running us through developing a business case for sustainability, Daniel Beaton from Moreland Energy Foundation discussing the fundamentals of installing solar and the challenges that come with it, Jeff Elliot providing first hand experience into what it takes to enact sustainable changes within an apartment block and Rochelle Castro from RC & CO Lawyers providing an overview on the legal side of owners corporations.
Ausnviro covered the background of NABERS, its establishment in the commercial office sector, and how residential lot owners can benefit from the newly developed NABERS for Apartments tool. We were also able to share our experience in completing some of the very first NABERS for Apartments ratings in Australia, with 33 residential buildings rated in the City of Melbourne Pilot study.
It is very exciting to see the interest from various Owners Corporations regarding the NABERS Apartments benchmarking tool, and we expect to see the same benefits that were associated with the initial implementation of the NABERS Program in the commercial office sector. The potential for reducing energy and water costs and subsequent Owners Corporation fees, as well as driving down greenhouse gas emissions are just two of the key incentives for completing a NABERS for Apartments rating.
Ausnviro can facilitate all types of energy efficiency works. If you would like to discuss a NABERS for Apartments rating, please email me at alex(at)ausnviro.com.au or give me a call on 0481 355 769.