The state of Victoria has just thrown commercial office owners a juicy bone.
$3.59 million to improve building efficiency in Victoria.
Whats the deal?
SV kicks in 50% of the cost of up to $150,000 (300k total spend) to carry out the following activities:
Opportunities Analysis – provides an opportunities report on the current energy efficiency of building systems such as lighting, lifts, and heating, ventilation and air-conditioning (HVAC) systems and identifies opportunities for improvement.
Building tuning – delivers simple, cost-effective energy efficiency building upgrades through tuning of building services and operations. This will identify and correct building system problems to maintain optimal building performance.
Monitoring – implements metering and monitoring to enable an evaluation of building performance for the 12 month period following building tuning, in order to measure the effectiveness and cost savings achieved through the building tuning upgrades.
Why bother?
SV is essentially giving building owners free cash to help them save more cash, make their buildings more energy efficient while helping build the intrinsic value of their asset. – its a no brainier.
Who should have a crack?
Remember how all the GBF money was pretty much swallowed up by all the major property funds?
Well… everyone else… now is your chance to get started making your building more energy efficient with the right advice at half the cost.
What can Ausnviro do for you?
We can facilitate everything. If your interested call 1300-NABERS or email us via our contact form
When does this kick off?

Applications for funding open on 9 September 2013.
Source: http://www.sustainability.vic.gov.au/www/html/3662-energy-efficient-office-buildings.asp

The Community Energy Efficiency Program will co-invest $200 million to support local councils and community organisations to improve the energy efficiency of non-residential council and community buildings, facilities and lighting. The program will demonstrate and encourage smarter energy use.
As well, the program will:
improve the energy efficiency of buildings and community facilities
encourage better use of energy and energy savings
build the capacity of the energy services sector and support competitive Australian manufacturers
contribute to the national effort to reduce greenhouse gas emissions.
The grants will be valued between $20,000 and $5 million. Recognising the shared responsibility and benefits, grant recipients will need to match Commonwealth funds on a dollar-for-dollar basis.
Community organisations with smaller projects will have access to a lower minimum grant amount of $20,000 whereas larger and metropolitan local governments will have a minimum grant value of $50,000.
Eligibility.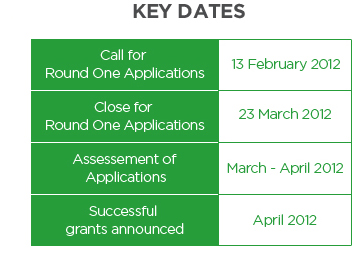 To be eligible for a grant, applicants will need to be either: a local governing body as defined in the Local Government (Financial Assistance) Act 1995; or a non-profit organisation constituted as a legal entity for at least 12 months, with public liability insurance to the value of $10 million and whose primary objective is to assist or service the community.
Eligible organisations may apply as either a single applicant or as part of a group.
What can Ausnviro do for your organisation?
Ausnviro can facilitate step one of the process for your funding application, which is a baseline measure of energy usage and efficiency of the building, facility or site proposed for upgrade or retrofit.
Ausnviro will use the NABERS methodology as required in the Community Energy Efficiency Program application guidelines. As required Ausnviro will act as an independent third party to the retrofitting project. The cost of this assessment is included in the government funding (up to $3000).
From this baseline rating the retrofit contractors will be able to estimate the greenhouse gas savings on commissioning retrofit works such as upgrades to to heating, ventilation, air-conditioning systems and hot water supply and/or upgrades to lighting and electric power saving features etc.
For the full list of potential works refer to pages 32-35 in the Community Energy Efficiency Program (CEEP) Guidlines PDF below.
Downloads
Enquire now
Call 1300 622 377 now for an obligation-free discussion or enter your details in the form below
An Ausnviro consultant will contact you within the next 2 hours, to answer your questions and discuss your situation.