Energy consumption – Important factors when preparing for a NABERS assessment.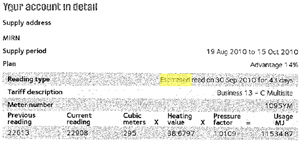 Preparation for a NABERS assessment is pivotal to gain an accurate NABERS rating.
When preparing for a NABERS Energy for offices rating the following documentation will be required:
Energy consumption data
Your Assessor will need copies of the utility bills for all sources of energy consumed, such as electricity, gas, LPG, coal, oil, co-gen, tri-gen etc, in the last 12 months, the latest bill to be no more than four months old.
The energy consumption data included in a rating is different for each rating type:
for tenancy rating – energy consumed by building occupants, such as tenant's light and equipment and tenant-controlled supplementary air conditioning, etc.
for base building rating – energy consumed by central services, for example common area lighting, lifts, air conditioning, etc.
for whole building rating – combination of the above.
Your Assessor is primarily concerned with the consumption data, i.e. the amount of electricity in kWh or gas in MJ, rather than the energy costs, so please ensure that you provide full copies of the bills and not just the first page to your Assessor.
Common issues when obtaining energy consumption data.
Estimated bills. These days, most utility companies read electricity meters remotely. However, depending on the age of your building this may not be the case, particularly in regards to gas metering. If you have a meter that needs to be read on site and for whatever reason the meter reader cannot gain access to the meters, the utility company will provide an estimated reading. NABERS treats this estimated reading as an error. Why is this bad? Depending on the amount of estimated readings, the entire building may be deemed as unrateable. NABERS require actual meter readings.
For example, I was carrying out a rating in Melbourne and when I audited the gas bills I discovered that only one bill from the last year was an actual meter reading. In order to continue the rating we had to go back four years to find the last actual meter reading. Using that reading against the actual NABERS site visit reading, we were able to ascertain the total gas use. However, the rating must only include a maximum of 365 days of usage. In this case, the entire four years of gas was applied to the one year. This is because there was no evidence of an actual meter reading since 2007. This of course resulted in a worsened rating.